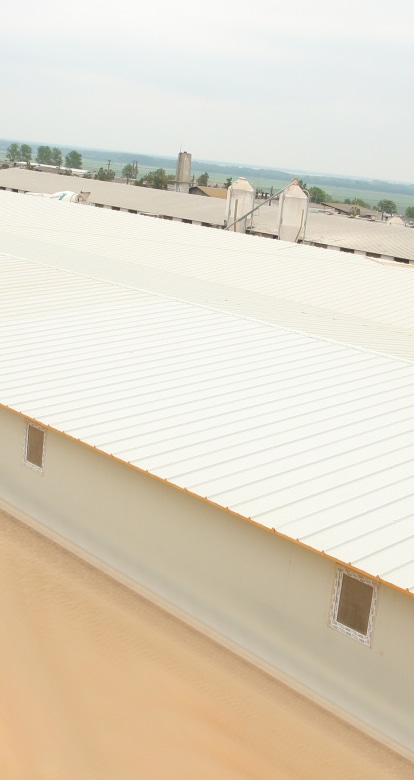 When we refer to metal structures and halls, we have a considerable number of benefits in mind. Firstly, there are fewer construction restrictions, compared to classic structures (concrete, brick, etc.) and low material waste. In addition, metal structures can be easily modulated, extended or even moved. It is easy to understand why, in recent years, metal halls have become the stars of the industrial and commercial construction sector.
With the growing popularity of metal structures for halls, modern insulation solutions have also been developed, such as thermo-insulating panels. These, in turn, come with many benefits, regardless of whether we are talking about enveloping or compartmentalising a building:
Regardless of whether we are talking about wrapping or compartmentalizing a building with thermo-insulating panels, they will bring you multiple advantages.
high execution speed (reduced duration by approx. 60%, compared to conventional systems)
Compared to conventional enveloping or thermal insulation systems, the work time is reduced, as we eliminate certain operations: the preparation of concrete/mortar and the correct drying time for each element. Moreover, compared to conventional systems, labor and handling are significantly reduced, as thermo-insulating panels are finite elements of the thermal insulation system.
increased insulation efficiency (low thermal conductivity)
It is known that both polyurethane foam (PUR) thermo-insulating panels and polyisocyanurate (PIR) panels have special insulating properties vs. classic thermal insulation materials. Thus, thermo-insulating panels will make energy costs more efficient during operation. 
reduced weight (easy to handle)
The weight for each category of PUR or PIR thermo-insulating panels, either wall panels or roof panels does not exceed 16.5 kg/m2, which will significantly facilitate the installation.
high resistance to temperature changes and variable atmospheric conditions
Unlike other enveloping or thermal insulation materials, which have cement or any other similar material in their composition, the thermo-insulating panel is a finished product with high elasticity. By covering the sheet metal pads with special varnishes and paints, they can be subjected to any type of atmospheric climate so that the natural freeze-thaw cycles will not affect their quality, in any way, over time.
wide range of profiles and finishing colours
The architectural trends of recent years have brought many requirements related to design and colour range. Any investment must take into account, in addition to the functional aspect, the design and colour details that correctly reflect its destination.
Precisely for this reason, we, the manufacturers of thermo-insulating panels will constantly strive to meet these requirements as well as possible.
low costs for the thermal insulation system, compared to the classic systems for enveloping the walls and the roof
Any investment must also take into account the costs of operation. Thus, in addition to reducing labor and installation costs during execution, thermal insulation panels represent added efficiency in terms of energy consumption – through their special thermal insulation properties.
Therefore, in terms of thermal insulation, thermo-insulation panels are becoming the optimal solution for anyone planning to develop a safe and sustainable project.
Click here to see the entire range of thermo-insulating panels.